The Battle with Bed Bugs
Monday, June 8, 2020
Did you know a female bed bug typically lays one to five eggs a day – and up to 500 in a lifetime? How about the fact that bed bugs can make their way into purses or stuffed animals?
Rose Pest Solutions, the nation's oldest pest management company providing industry-leading pest management technology, is offering tips and sharing solutions for residential and commercial clients to ensure their homes and businesses remain bed bug-free during Bed Bug Awareness Week (June 7-13), as well as throughout the rest of the year.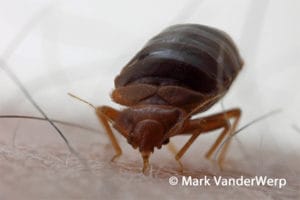 As states start to ease and lift stay-at-home restrictions stemming from the COVID-19 pandemic, many Americans are getting set to embark on their summer vacations – and as excitement for traveling starts back up again, so does the threat for bed bugs. Vigilance is key to preventing bed bugs from ruining a vacation or "staycation," and it is important to know what to look out for and how to limit the chances of these hitchhiking pests wreaking havoc in your home or business.
Some telltale signs of bed bug presence or infestation include:
Small reddish-brown to black fecal spots on upholstered surfaces, bed frames, or walls.
Bed bug skins and small white eggs will be present if there is an infestation. The bugs are also visible to the naked eye, with adults being about the size and color of apple seeds.
Symptoms in humans may include red, itchy bite marks, especially on the legs, arms, and other body parts that may be exposed while sleeping. However, some people will not visibly react to bites, so looking for bites alone is not a reliable way to find an infestation.
"Once bed bugs establish themselves inside your home or office, they can be extremely difficult to get rid of," said Mark 'Shep' Sheperdigian, vice president of technical services for Rose Pest Solutions. "There are certainly some things you can do to prevent them from spreading, especially if you're traveling – because these insects can get on dirty clothes and ride unnoticed on purses, briefcases or luggage."
Here's how you can help prevent these unwanted guests from taking up residence in your home or business:
When arriving at your destination (i.e. a hotel room) – make sure to inspect the entire room for bed bugs before unpacking. Check behind the headboard, under furniture and along seams and edges, and inside dresser drawers.
Pull back the sheets and inspect the mattress seams and box spring, particularly at the corners, for pepper-like stains, spots, or shed bed bug skins.
Place suitcases on luggage racks or in a plastic trash bag during the duration of the trip.
After a trip, and before bringing any luggage inside, use a flashlight to inspect your gear. Then, use a vacuum to remove potential insects from all suitcases, backpacks, and pillows. Place a knee-high nylon in the nozzle of the vacuum in order to capture any potential bed bugs; these pests can survive the vacuum 'ride' and potentially spread if not captured correctly.
Directly deposit all clothes, linens, and other appropriate items into the washer, then place them in the dryer, at the highest temperature possible, until dry. Don't pile the items in an area and leave them for an extended time before washing, drying, and storing them. While the wash cycle will kill most of the bed bugs, the heat of the dryer alone can exterminate any and all bugs. Bed bugs do not tolerate high temperatures.

o

Place items that can't be washed in the dryer, at a high temperature, for a minimum of 20 minutes to kill any live bed bugs and their eggs.
Rose also offers additional do-it-yourself tips on this Youtube playlist that gives clients a visual representation of what to do if they believe bed bugs are present in their home or office. If DIY treatments aren't enough, Rose Pest Solutions professionals can eradicate the infestation quickly and completely. Rose offers Canine Inspections for quick, accurate detection of bed bugs – and with the same high-level accuracy of bomb-sniffing dogs, Rose's certified canines can search an entire room in two to three minutes for live bed bugs and eggs. Once detected, Rose presents a variety of eradication methods, including effective structural heat treatment, a manual method using chemicals, and fumigation for extreme cases.
Rose Pest Solutions is celebrating its 160th anniversary this year as a family-owned and operated pest management company. The business provides a wide range of services, including residential and commercial pest control. Rose Pest Solutions is dedicated to being good global citizens by keeping environmental impact and human safety at the forefront of its daily operations, which is demonstrated regularly in both residential and commercial services. In addition, technicians at Rose receive ongoing education and training, which allows them to provide the latest in pest control technology.
If you suspect you've seen signs of bed bugs, contact your nearest Rose Pest Solutions service center to book your inspection.