Residential Bed Bug Heat Treatments
Eliminate Bed Bugs Safely And Effectively From Your Home With Heat
At Rose Pest Solutions, we offer environmentally friendly bed bug heat treatments for homeowners in the following service areas. Proven to kill all stages of bed bug development, heat treatments are both a cost and time effective method for eliminating bed bug infestations.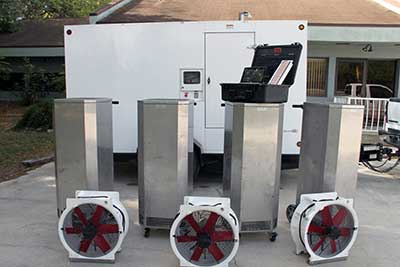 Bed bug heat treatments are ideal for:
Get Rid Of Bed Bugs In One Day
While other bed bug treatments often require multiple visits with extensive preparation, bed bug heat treatments, if applied correctly, are proven to resolve bed bug infestations in as little as one day. Other benefits of using heat to kill bed bugs include:
Effectively penetrates furniture and mattresses where bed bugs congregate

Allows you to treat the entire structure or a single area

Preparation is less extensive than other treatment methods
What Are Heat Treatments?
Heat treatment is a green pest control solution that utilizes portable electric heaters and fans to raise and maintain the temperature in an infested area to a level that is lethal to bed bugs and their eggs. Treatment time varies based on factors such as clutter, the layout of the structure and spaces within, severity of the bed bug infestation and airflow management. Our highly trained technicians use portable electronic sensors to ensure the temperature remains at the effective level throughout the entire process. Often times our bed bug heat treatment technicians will move and rotate the contents of the room to make sure cold spots are eliminated.
Bed Bug Inspections
Our heat treatment process begins and ends with a thorough bed bug inspection, conducted by our technicians who are familiar with the habits and biology of bed bugs and experienced in locating bed bugs. Inspections are completed in infested areas as well as in adjoining rooms and hallways.
Preparing For A Bed Bug Heat Treatment
Prior to a bed bug heat treatment, Rose will provide a heat treatment preparation checklist that highlights steps you need to take to avoid damaging property and potentially dangerous situations.
Schedule Your Bed Bug Heat Treatment Today
Available in Michigan and Ohio as well as elsewhere in our service area, bed bug heat treatments are the smart choice in bed bug eradication and allows you to have rooms back in operation quickly. To schedule a bed bug heat treatment for your business, please contact us today.