160 Years Of History Makes Rose Pest Solutions The Oldest Pest Control Company In The Nation
Rose Pest Solutions has its roots in our nation's oldest pest management company - Rose Exterminator Co., originally known as Rose Rat Exterminator Co., founded by Solomon Rose around 1860 in Cincinnati, Ohio. Reports show that Rose sold large quantities of pyrethrum powders to the Union Army during the Civil War to kill "cooties" (body lice). In 1867, Rose formulated a phosphorous paste for cockroach and rodent control. He also developed a spray gun, a powder duster, and formulated Rose's Rat Embalmer, a colored arsenate trioxide. These products were retailed, sold by mail order, and peddled door to door from a cart.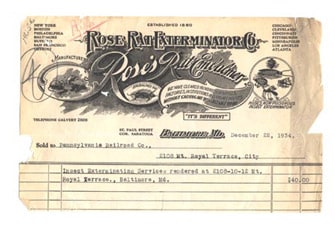 One of the first service invoices for Rose Pest


The business' first expansion came in 1955 when an office opened in Grand Rapids. Offices in Toledo, Ohio, and Saginaw, Michigan followed in 1959. In the 1970s, the company acquired Van Core Pest Control in Lansing, Hawley's Termite Control in Kalamazoo, and Fisher Termite & Pest Control Co. in Steubenville, Ohio. In the 1980s, acquisitions included Environmental Pest Control in Fort Wayne, Indiana, The Exterminator, Inc. in Battle Creek, Michigan, Able Pest Control, and Franklin Pest Control in South Bend, Indiana, and Peden Excel Pest Control in Benton Harbor, Michigan. All operations assumed the Rose name, except the Steubenville office which was known as Fisher Pest Control. The Fisher Pest Control name was derived from that company's founder, Jim Fisher, who established the company in 1952. The company enjoyed a fine reputation in the Ohio and West Virginia markets at the time of its merger with Rose in 1978, so the name was maintained. The use of the Fisher name was expanded in 1989 when operations were opened in Cincinnati, Columbus, and Cuyahoga Falls. Ohio under that name. In 1971, Bill Ives saw that the increasing network of offices and acquired businesses would require a common identity. Bio-Serv Corporation was formed as an umbrella company for these service entities.

Soon thereafter, it became apparent to management that another market opportunity existed. Pest control companies such as Rose and Fisher were being served poorly by distributors of pest control chemicals and supplies and Bio-Serv already enjoyed some close relationships with manufacturers of these critical supplies. A distributing division was established under the Bio-Serv name with the mission of serving as a supplier of pest control chemicals and equipment to pest control professionals. This division operated for nearly twenty years until management decided to focus its resources and efforts on the pest management business. On February 1, 2004, Rose Exterminator Co. changed its name to Rose Pest Solutions, along with the Fisher Pest Control offices, so now all the offices carry the same name.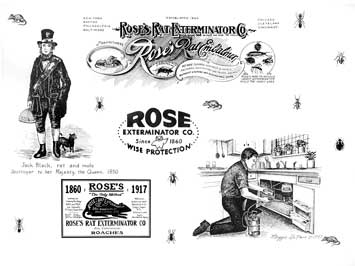 Bio-Serv Corp. is now under the direction of the third generation of the Ives family. H. Russell Ives joined the Company in 1978 on a full-time basis and now serves as CEO. James R. Ives started in the distributing division in 1981 and currently leads as President. Given this long and rich history in the industry, it is not surprising that Bio-Serv companies are widely respected leaders in pest management and products. Three of our past Presidents, Harlem, Bill, and Russ Ives, served as President of the National Pest Control Association making Rose the first pest control company in the nation to have a third-generation NPMA President. Other members of management have served as leaders in trade associations in Michigan and Ohio, as well as at the national level. This leadership demonstrates the professionalism Bio-Serv employees will always endeavor to maintain as we continually strive to serve our clients' needs.