Wildlife Control and Management Solutions
The Problem:
Unwanted nuisance wildlife is one of the fastest-growing pest problems in urban settings and can cause serious health risks and financial loss to your business. Wildlife that is common to Detroit, Cleveland, and other urban areas include raccoons, skunks, opossums, squirrels, chipmunks, bats, and even moles. These wildlife nuisances will frequently or completely invade structures and can cause serious health risks and financial loss to your business.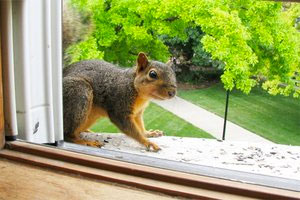 Nuisance wildlife can:
Spread diseases, including salmonellosis (food poisoning), leptospirosis, and lymphocytic choriomeningitis (LCM).

Contaminate and or consume stored food supplies.

Carry fleas, ticks, and other ectoparasites, which potentially spread disease.

Cause expensive structural damage.

Cause a great deal of anxiety for the occupants of infested buildings.
The Solution:
Rose Pest Solutions offers a fully integrated wildlife control program, designed specifically for commercial, industrial and institutional businesses. Your Rose team will incorporate an ongoing, multi-step program, which includes:
Inspecting, identifying, and assessing the specific types of wildlife pests and their populations.

Documenting conditions that are conducive to wildlife pests such as sanitation and construction deficiencies that support wildlife infestations.
Trust Rose To Remove Wildlife From Your Commercial Property
Recommending various plans to maintain a nuisance wildlife-free environment, Rose Pest Solutions offers wildlife removal services for businesses in Detroit, Cleveland, Troy, and throughout Michigan, Ohio, and our large service area.

Just give us a call or send us an email to request an inspection at no obligation to you. We will provide you with an honest assessment of any current or potential pest activity. If we don't find any or feel you don't need our service, we'll let you know that too.