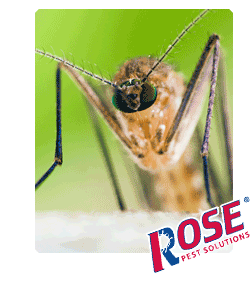 Mosquito Abatement Programs
The Problem:
Mosquitoes have plagued man for ages and in addition to being a nuisance, they can also transmit many diseases, such as Encephalitis, Malaria, Yellow Fever, Dengue and West Nile Virus. For example; mosquitoes become infected with West Nile Virus when they feed on infected birds that carry the virus in their blood. Infected mosquitoes can then transmit diseases to humans and other animals while biting them. Although we can't rid ourselves of mosquitoes completely, we can reduce our risks with sound environmentalmanagement and personal protection techniques.
The Solution:
Rose Pest Solutions isn't new to mosquito management. We've been treating for mosquitoes for over 30 years. Rose can design a specialized Integrated Pest Management program for your commercial, industrial or municipality that focuses on the environment and it's relationship to your specific situation.
Rose Mosquito management programs may include:
Mosquito breeding site determination

Structural deficiencies that allow for mosquito invasion

Larvicide application for immature mosquito management

Adult mosquito management
Just give us a call or send us an email to request a free inspection at no obligation to you. We will provide you with an honest assessment of any current or potential pest activity. If we don't find any or feel you don't need our service, we'll let you know that too.