How To Control Mosquitoes In Your Backyard
Thursday, May 26, 2016
Nothing can spoil a backyard get together faster than a bunch of blood-sucking mosquitoes! Along with causing an itchy, painful bite, homeowners have to worry about the potential health threats caused from the bite of a mosquito, including West Nile virus and Encephalitis. Rose Pest Solutions understands how short the warm, spring and summer months are, so in order to make the most of them, Rose would like to offer a few tips to homeowners for mosquito reduction and protection.
Reduce The Number Of Mosquitoes In Your Yard
Eliminate standing water around the home where mosquitoes breed. This includes birdbaths, flowerpots, grill covers, baby pools, unopened swimming pools, tires and other objects where water collects.
Remove clutter from around any source of standing water.
Screen openings in your home with fine mesh that is 18X18 strands per inch, to prevent entry.
Install bird or bat houses. They continually feed on mosquitoes and other insects.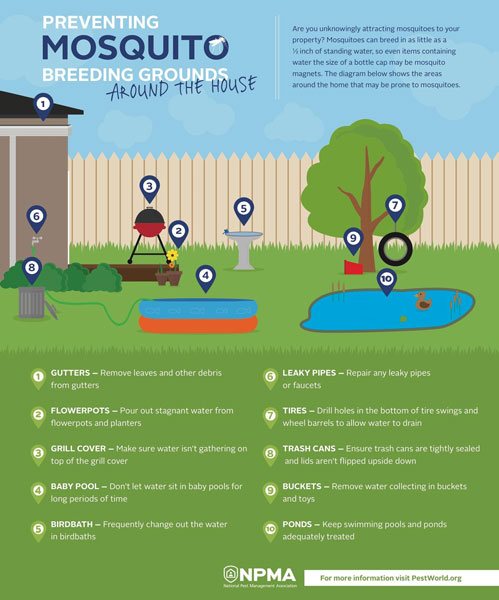 Protect Yourself From Mosquitoes
With their numbers reduced, there are still personal protections that can be taken to protect you from mosquito bites this season including:
Minimize outside activity between dusk and dawn, when mosquitoes are most active.
Use an insect repellent containing DEET, picaridin or oil of lemon-eucalyptus on exposed skin whenever outdoors.
Contact Rose For Effective Mosquito Control
We offer effective mosquito control for homeowners in Michigan, Ohio, Kentucky, Indiana, West Virginia and Western Pennsylvania. No area can be 100% mosquito free, but our mosquito treatments can help keep the mosquito population manageable and allow you to enjoy your backyard all summer long! Rose also offers commercial mosquito control; contact Rose Pest Solutions today for more information!