Rose Pest Solutions Committed To Protecting Pollinators
Monday, August 17, 2015
On August 22, Rose Pest Solutions joined the National Pest Management Association (NPMA) and hundreds of professional pest control companies across the United States in a national community day of service to plant pollinator gardens in their communities and call attention to the importance of pollinator health. Pollinators include honey bees, butterflies, birds, bats and beetles.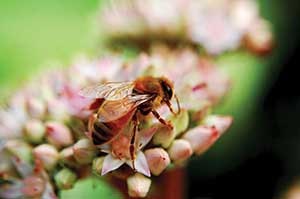 While there are a number of factors that threaten honey bees and other pollinators, one of the primary threats is the lack of available nectar and pollen sources. With increased urbanization, natural habitats for foraging pollinators have become scarce, and in turn so have their nutrition sources. Community and private gardens that contain flowers and plants attractive to pollinators can be extremely beneficial in providing new food sources.
"Rose Pest Solutions is proud to participate in a campaign to bring awareness to the important role pollinators play in our environment and to plant a garden in our community chockfull of pollinator-friendly flowers and plants to help these useful insects thrive," said Mark "Shep" Sheperdigian, VP of Technical Services at Rose "We know that the collaboration of private companies, government and non-government agencies and the public can help us collectively safeguard these important species."
NPMA and Rose Pest Solutions offer the following ways the public can help pollinators in their own communities:
Create a bee-friendly garden with flowering plants, herbs and vegetables, including wildflowers, lavender, sunflowers, golden rod, honey suckle, chives, oregano and thyme. To keep family members and pets safe, these gardens should be planted away from the home or outdoor seating areas.
Buy local honey and support community beekeepers.
Do not attempt to remove or eliminate nests and hives - instead contact a licensed pest professional or beekeeper who can do so safely while preserving the bees.
For more information on pollinators and how you can plant a garden of your own visit bit.ly/U2PPvO .
August 22, 2015 is plant a pollinator garden day.
Transcript:
WJR:
That's a look at WJR sports at 7:45. This time of year, we are surrounded by insects but they're not all bad like the honeybees and other wild pollinators that keep plants producing seeds. Pollinators play a vital role in our nation's food production. And with honeybees facing serious issues such as varroa mites and the mysterious colony collapse disorder, we can all do our part to help the bees. So, how do you rid your yard of pests that pose a threat to health or property yet protect the beneficial insects like the bees? Well, you call Rose Pest Solutions at 800-966-7673. Their skilled entomologists and technicians practice responsible pest control they utilize a scientific targeted approach to protect the environment while controlling the pests more likely to sting like, Yellow Jackets or wasps or even bite like mosquitoes, all to keep you and your family healthy and your property safe. Enjoy your yard again, call the pros at Rose today at 800-966-Rose that's 800-966-Rose, or visit them at Rose Pest Solutions dot com.