Rose team members present at PCT Purdue Conference
Wednesday, January 13, 2016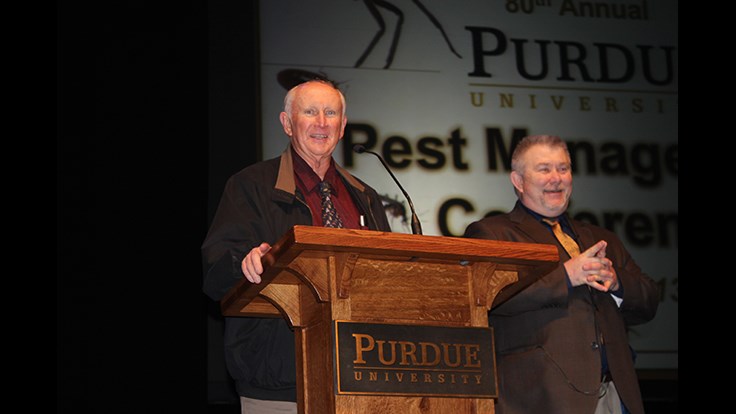 (Pictured is Purdue's Gary Bannett and Dale Hodgson of Rose Pest Solutions).
WEST LAFAYETTE, Ind. — The pest control industry is rooted in education and innovation, and an important goal of the 80th Annual Purdue Pest Management, held this week at Purdue University in West Lafayette, Ind., is to build on that foundation. With that goal in mind, attendees are learning from industry experts on a variety of cutting-edge pest management topics.
Rose Entomologist Mark "Shep" Sheperdigian presented on bed bugs. In his presentation "The Science and Practical Importance of Bed Bug Movement" Shep reviewed when and how bed bugs move and how this can be used against these pests. While he noted that there is much more research needed to find out why bed bugs' movement is akin to "musical chairs," he reviewed some tendencies. For example, items such as beds, recliners and movie theater seats are more likely to have large bed bug populations (compared to a location like a car seat) because once bed bugs find a meal source they stop scavenging and "dig in." "Bed bugs don't do 'Bun on a Run.' They prefer a long, filling feast. They eat like Italian families.
The event was attended by Mark Sheperdigian, Mark Vanderwerp and Dale Hodgson of Rose Pest Solutions.
January 12, 2016 by Brad Harbison