Rose Pest Solutions hosts 18th Annual Technical Conference
Monday, April 3, 2023
Rose Pest Solutions brought an army of pest control professionals to Battle Creek for its 18th Annual Technical Conference March 22 through 24 at The FireKeepers Casino Hotel.
More than 350 people were on-site during the three-day exhibition. Speaker sessions featured industry leaders and professionals from outside Rose Pest Solutions, including:
Dave Gordon, author, and inspirational coach, was the keynote of the event, drawing from his over 30+ years of experience about how professionals can build stronger, more positive brands.
Matt Frye, the senior extension associate with the New York State Integrated Pest Management Program at Cornell University, presented exclusion tactics to keep pests out of structures.
Ed Hosoda, vice-president of Cardinal Professional Products, presented from his over 49 years of experience in the fumigation and pest management industry.
Tim Husen, technical services manager for Syngenta Professional Pest Management's Midwest and Northeast U.S. Territories, talked as a subject matter expert on ant control tactics, products, equipment, and other takeaways from his 24 years of experience in entomology and structural pest management.
Timmy Madere, special projects coordinator for the City of New Orleans Mosquito, Rodent, and Termite Control Board, discussed the current challenges and opportunities in rodent management.
T.J. Neary, owner of Insect Technologies Inc., drew from his vast experience conducting termite inspections to discuss termites and other wood-destroying organisms.
Faith Oi, an urban entomologist in the Entomology and Nematology Department at the University of Florida, reviewed core category training, including the foundational concepts of reading and comprehending pesticide labels, how to calibrate equipment, and the proper use of safety gear.
Tina Wismer, senior director of the ASPCA Animal Poison Control Center, discussed how best to avoid non-target poisonings when rodenticides are deployed.
Knowledge-building sessions were also offered that combined learning and humor in an engaging format. Topics for this year include Pest Management Knowledge Showdown and Phorid Flies: Small Flies Causing Big Problems – which was hosted by some of Rose Pest Solutions' Board-Certified and Associate-Certified Entomologists.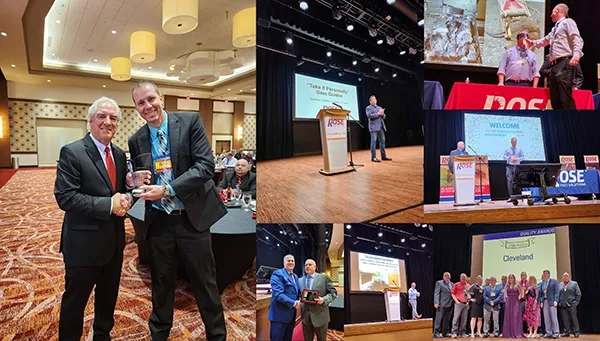 As part of the conference activities, Rose Pest Solutions hosted its annual employee award ceremony on March 22. The company recognized employees and districts for their dedication and service. With more than 300 employees throughout its 17 locations in Michigan, Ohio, and Indiana, Rose Pest Solutions takes the opportunity each year to honor its team for its successes, tenure, and talents in a special awards ceremony.
"As a 4th generation family-owned and operated business for more than 163 years, we see each of our employees as an extension of our own family," said Jim Ives, president of Rose Pest Solutions. "We're proud to offer them the opportunity to learn and continuously build new skills each year through our annual conference."
"We're grateful to once again play host to some of the most accomplished pest management professionals in the field," said Mark VanderWerp, manager of education and training for Rose Pest Solutions. "This year's conference will highlight the latest and most effective technologies and pest management strategies - ensuring that our attendees have access to the skills they need to stand out from those companies where ongoing training is not a core part of the culture."