Rose Introduces Disinfection Service
Thursday, May 28, 2020
Rose is pleased to offer a new structural disinfecting service that effectively kills pathogens, including SARS-CoV-2 (the cause of COVID-19) on hard, non-porous, and high-touch surfaces for commercial clients throughout the states of Indiana, Michigan, and Ohio.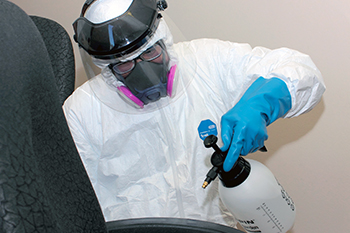 The new Disinfecting Service is environmentally friendly and contains only products included on the EPA's "List N" to disinfect high-touch areas such as desks, doorknobs and handles, light switches, phones and more. The materials used are proven to attack other bacteria, fungi and viruses as well, such as Influenza A (H1N1), Salmonella, Hepatitis B and C and HIV. Rose's expert technicians will provide a customized service through either misting, spraying or wiping, or use a combination of these methods, to quickly and conveniently eliminate dangerous pathogens that might be present in the treated space. In addition, Rose technicians always:
Follow the latest CDC and OSHA guidelines;
Come equipped with proper tools and protective equipment
Follow specific safety protocols designed to address everything from preparation to post-treatment
"The number one priority for Rose Pest Solutions is to keep our clients and employees safe," said Russ Ives, CEO of Rose Pest Solutions. "We know that as we get back to a 'new normal,' people might feel a little uneasy about returning to the office or public gathering spaces. This Disinfecting Service will provide peace of mind for those throughout the Midwest as they work to navigate new routines away from their homes – while also upholding the strict health standards that will undoubtedly be top-of-mind for our clients as they work to demonstrate their commitment to their customers, employees, and suppliers."
This safe, effective disinfecting service, now available to commercial clients in Indiana, Michigan, and Ohio, is ideal for a variety of businesses, including daycare centers, food, manufacturing, and recreational facilities, restaurants, and schools. Minimal preparation is required before technicians arrive to apply the treatment, and, in most cases, people can reenter the facility no longer than one hour after the service has been completed. It is also convenient, as disinfecting services can be scheduled outside of normal business hours or during designated employee break times.
Rose Pest Solutions is celebrating its 160th anniversary this year as a family-owned and operated pest management company. The business provides a wide range of services, including residential and commercial pest control. Rose Pest Solutions is dedicated to being good global citizens by keeping environmental impact and human safety at the forefront of its daily operations, which is demonstrated regularly in both residential and commercial services. In addition, technicians at Rose receive ongoing education and training, which allows them to provide the latest in pest control technology.