Jake Vollink Recognized As PCT Magazine Commercial Technician of the Year
Wednesday, December 18, 2019
Great Communication, Attention to Detail Make the Difference
Rose's manager of education and training Mark VanderWerp, told PCT that Vollink took over his route in Grand Rapids and the results have been outstanding. "As much as it hurts my pride to say this, this route has flourished much more under the care of Jake than it ever did under my care," VanderWerp wrote in Vollink's Technician of the Year nomination form.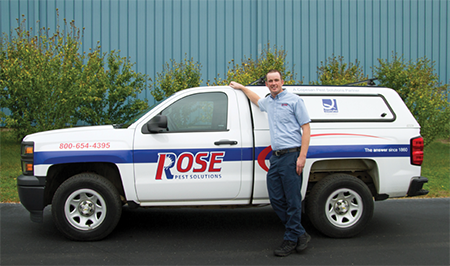 "Technicians are the public face of what we do and all too often management doesn't pause to truly appreciate these men and women that make it all happen … reflecting on the value Jake Vollink brings to Rose and the pest management industry has been a worthwhile exercise," VanderWerp added. "I would not advance our nominee if I didn't know that he is one of the very best out there! In fact, I can't find anyone in our company who has anything bad to say about this individual."
According to VanderWerp, Vollink excels in every aspect of his job, and he provided a few examples of why he is worthy of such a prestigious award, spotlighting his efforts in customer relations and safety as well as his leadership skills. Vollink serves many of Rose's largest customers and is a dedicated family man who will "suit up" whenever there's a need for him to take care of an issue for a client.
"Descriptors like 'thorough,' 'timely,' 'great service,' and 'knowledgeable' are frequently used when our clients comment on Jake," VanderWerp said.
Click Here to Read the full story in PCT Magazine