Rose Pest Solutions Earns Angie's List Super Service Award
Friday, January 31, 2020
Rose Pest Solutions, the oldest pest management company in the country, has earned a top spot on Angie's List with its third consecutive Super Service Award. It's the eighth time the company has been awarded as a best-in-class provider and service professional by maintaining exceptional ratings and reviews on Angie's List.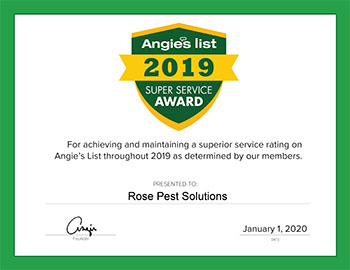 Rose provides a wide range of services, including residential and commercial pest control. Residential services include integrated pest management, bird, bed bug and wildlife removal, termite and mosquito control, and treatment for the most common household bugs and rodents. Commercial services include fly management, drain line bioremediation, weed management and many of its same residential treatments.
Technicians at Rose Pest Solutions also receive ongoing education and training, which allows them to provide the latest in pest control technology. They always strive to use the least invasive, most eco-friendly and affordable pest control services to fit each customer's unique needs.
Rose Pest Solutions is also dedicated to being a good global citizen by keeping environmental impact and human safety at the forefront of its daily operations, which is demonstrated regularly in both residential and commercial services. Technicians are trained in the use of eco-friendly pest control methods first and use chemical treatments as needed. This ensures that more environmentally friendly methods are implemented first, prior to any chemical treatments.
"We are so proud to once again receive a Super Service Award from Angie's List," said Russ Ives, chairman and CEO of Rose Pest Solutions. "This award puts us part of a pretty exclusive group, and we feel confident that customers can trust the information on Angie's List that indicates Rose as the go-to company for pest management services. All our technicians have the luxury of being trained by our three Board Certified Entomologists, which gives them a distinct advantage out in the field and allows Rose to provide the best possible customer service."
Angie's List has been a trusted name for connecting consumers to top-rated service professionals for more than two decades. Companies are graded on an A through F scale in multiple fields, including price, professionalism, and punctuality. In addition to verified consumer reviews, Super Service Award winners, including Rose, undergo additional screening by the company.