Canines called to help fight against bed bugs in Ohio
Wednesday, December 14, 2016
The brindle dog with flyaway hair and whiskers quivered at the end of the taut leash. Trainer Jayna Hiffner dropped the leash.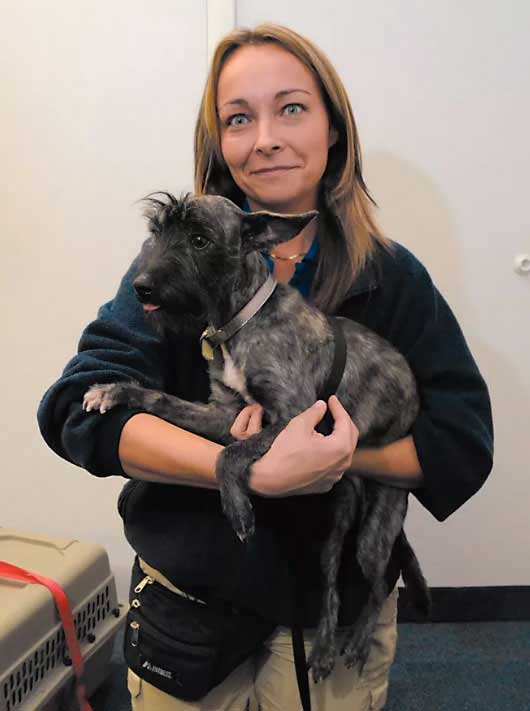 The Scotty-Cairn terrier mix bounded onto the couch, darting to seams and crevices, frantically sniffing with nose pressed to the material like a vacuum cleaner.
Suddenly, the terrier stood still and pawed at a spot where the couch back met the cushion. He'd found his target — a bed bug.
"Dogs can smell live bugs or viable eggs, even in a light socket," Hiffner said. "It's kind of like going into a room with the light off. He's my flashlight."
It takes a human inspector about 20 to 25 minutes to search a room for bed bugs. The dog covers the same territory in two to five minutes, she said.
Dogs are one of the more recent weapons in the fight against the resurgence of bed bugs.
"Bed bugs are everywhere right now. Nobody expected them to come back," said Hiffner, noting that by the early 1940s, they were thought to have been pretty well eradicated.
Hiffner and the terrier — Kramer — work out of the Cuyahoga Falls office of Michigan-based Rose Pest Solutions. They've been called to Trumbull County for a number of jobs, Hiffner said.
Click Here > to Read the full article "Canines called to help fight against bed bugs" in the Tribune Chronicle
BURTON COLE
Features Editor
bcole@tribtoday.com