Columbus, Ohio Pest Control
Rose Pest Solutions is a locally owned and operated pest control company that has been in business since 1860. At Rose, we pride ourselves in providing our customers with professional pest control services using the most modern exterminating techniques and products. Our pest control services are highly effective yet safe for people, pets and our environment. Whether
ants
,
bed bugs
or
mice
have infested your home or business, Rose Pest Solutions will resolve your pest issues.
Residential Pest Control
For over a century we've seen the affect pests can have on homes. That's why we developed our
residential pest control services
. We provide general pest control services to eliminate common household pests that have invaded your home. We also offer pest control services and solutions for more complex infestations, such as cockroaches or termites. No matter what type or how serious your infestation problem, Rose Pest Solutions will work with you to eliminate pests and keep them from returning. Our Ohio technicians tailor our services to your individual needs and are designed to provide you with relief from rodent, insect and wildlife worries.
Bed Bug Inspection and Treatment Services
Bed bugs have become a major concern in the Columbus area and across the entire United States. These pests reproduce quickly and use human blood as their food source and are the most active during nighttime. Bed bugs are rapidly infesting hospitals and hotels, as well as apartment buildings and other residential and commercial dwellings in Columbus and can be really hard to locate and even trickier to eradicate due to their elusive nocturnal nature and their ability to hide in furniture crevices, under floors, behind electrical outlets and even in personal items like shoes. At Rose Pest Solutions, we know how important it is to get rid of bed bugs and that is why we have developed our residential bed bug control services to completely eliminate bed bug issues for homeowners and our bed bug treatment and detailed follow-up care make certain that your home or business will be bed bug free. For more information on our residential or commercial bed bug control services, please contact us.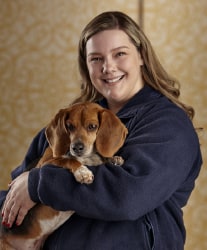 Becca and Ranger Columbus Ohio Canine Bed Bug Team
Canine Bed Bug Inspection Team
Rose began using dogs to inspect for bed bugs in 2011 with two trained bed bug sniffing dogs. Since then we've added six new dogs and handlers, trained specifically to detect live bed bugs and bed bug eggs. Our eight active canine teams have been trained using the same methodology and regimen as bomb sniffing dogs, drug dogs and termite dogs.
Let Rose Keep Your Home Termite Free
Termites are small wood-destroying insects that are able to cause serious structural damage to homes if left untreated. If you have noticed small holes in your wood surfaces or if your door and window frames are sagging, you may already have a termite problem. Our experienced termite exterminators are extensively trained and will work to eliminate the termite colony currently infesting your home with our termite services and provide continued monitoring against these wood consuming insects using the Sentricon® Termite Colony Elimination System. This state of the art system will constantly monitor for any new termite activity in and around your home or property. If you suspect you have a termite problem, or if you want to be proactive against a termite infestation, contact the Columbus Ohio Rose Pest Solutions office today.


Wildlife Removal Services
If wild animals like raccoons, skunks or squirrels have infiltrated your home or business, then your best option is to contact Rose Pest Solutions. Our wildlife removal services for homes and businesses target a wide variety of wildlife that is common to the Columbus and Ohio area, including bats, moles and raccoons. Our thorough wildlife control services identify and remove any wildlife problem in or around your property and our professional team of wildlife removal specialists will help you protect your property from future wildlife invasions by teaching you to identify and correct any conditions around your home or office that attract wild animals.
Commercial Pest Management Solutions
At Rose Pest Solutions, we offer many commercial pest management services for residential and industrial facilities including Drain Line Bioremediation Services, Bird Removal and Specialty Fumigation. Overseen by our Board Certified Entomologists, our commercial pest control services are designed to prevent bird, rodent and insect infestations in all types of commercial and industrial facilities in Columbus and all of Ohio including:
We take pride in providing comprehensive pest control solutions for all commercial pest problems. We offer pest removal treatments that are customizable to your company's needs and pest issues, no matter how large your company or severe your infestation. Rose proud to provide our customers with the highest quality pest control services that will protect your business against pests like flies, pigeons and rats and keep them from damaging your company.
Contact Rose Pest Solutions
At Rose Pest Solutions, we are dedicated to providing residential and commercial pest control services to the residents and businesses of Columbus Ohio. If you have a pest problem or want to protect against future pest infestations, contact us today.