Flies
What Are Flies?
There are many types fly species common to
Detroit
,
Columbus
,
Cleveland
, and throughout
our service area
, including
house flies
,
cluster flies
and
fruit flies
. The house fly is approximately 1/8-1/4 inch long with the female being larger than its male counterpart. The house fly has a single pair of wings and ar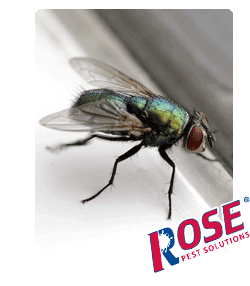 e gray in color.
Why do I have them?
Flies invade homes and commercial facilities in search of food and conditions that are ideal for breeding and living. They are notorious scavengers that will feed on meat, vegetables and garbage in and around your home.
Are they dangerous?
While flies are often considered a nuisance pest, they can also pose a serious risk. Flies contaminate food and spread diseases when they regurgitate liquefied food onto counters and work surfaces.
How do you get rid of flies?
Getting rid of flies permanently is impossible, but with the help of a professional pest control company you can control and reduce fly populations on your property. Contacting Rose Pest Solutions at the first sign of a fly problem is the best way to prevent a larger fly infestation.
Can I do it myself?
Do-It-Yourself fly treatments and control methods are not effective in getting rid of flies and simply do not work, as the chemicals they use are not effective. Remember – if misused or mixed improperly, pesticides can be very dangerous to people and pets.
How soon can you get here?
Rose Pest Solutions
is committed to being there when you need us, and in many cases we can respond within
24-48 hours
.
Is the treatment safe?
Rose Pest Solutions follows very strict guidelines for the use of pest control products so that they pose no hazard to people, pets or plants. Every product we use has been checked and registered by the EPA and our highly trained service technicians will inform you of any safety measures that need to be taken.
How can I prevent this in the future?
Preventing flies can be a very difficult because of the wide variety of food sources and breeding sites often found around homes and commercial facilities, so continued vigilance and treatment as required are the usual steps. The most effective way to prevent these pests is to employ a pest control company that offers
fly management services
.
Testimonial:
"Gary and I have had our home in the care of Rose Pest Solutions for the last 4 yrs. We have been very pleased with our service with Rose. Lynn B. has always been prompt, courteous, and very responsive to our needs. We live in a large home with quite a few storage rooms; which is surrounded by a very wooded lot. We are literally "renting from the critters"; so we do have issues with them from time to time. As I said to Lynn today on the phone, we loved Troy, a former tech for us for the last 3 yrs. Troy has moved on, and Mike is the tech who has taken care of us in this last year. We could not be MORE PLEASED with his informative, easy going abilities to deal with "unpleasant situations".

Just wanted to pass along our satisfaction. "
Denise & Gary N