Termite Signs And Prevention
Signs You Have Termites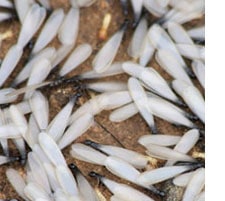 Swarming Termites
This is a mass of winged-termites that have grouped together to find and establish their new colony.

Finding winged termites in your home is often the first sign of an infestation.

Swarms usually occur in the spring and can have as many as 65,000 termites in the swarm.

Check out the About Termites section to see the difference between flying ants and termites.
Mud Tubes
Mud tubes are probably one of the more visible signs of subterranean termites. They use mud tubes to travel between the colony's nest and their source of food and water.

Mud tubes are about the diameter of a pencil and originate in the soil and move into your home as needed food sources are discovered.

Check the woodwork, foundation walls, drywall, crawl spaces or any other type of surface for mud tubes. They can extend for many feet.
Discarded Wings
After subterranean termites swarm, they will discard their wings. If you find piles of insect wings near your windows, doors, light fixtures or in spider webs, there's a good chance there's a swarm of termites nearby.
Wood Damage
You need to look carefully for this as wood damage isn't always easy to detect.

Termites feed on the wood from the inside out, leaving a thin exterior layer intact.

Here are a few simple ways to check for damage:
Break off a piece of the damaged wood. Small tunnels winding throughout are a sign of termite damage.

Tap on the wood. If it has a hollow sound, there could be termite damage.

Look for wood that appears weakened, has small cracks or is blistering
Termite Prevention Tips
Termites need moisture to survive, so eliminate their access to water both indoors and out:
• Repair leaking pipes, faucets, etc.
• Remove any standing water near the foundation or on the roof of your home.
• Keep gutters and down-spouts clear of debris to allow water to flow out.
Make sure shrubs, mulch and other landscaping elements are away from the foundation.

Keep soil at least 6 inches away from the bottom of stucco, siding, wood steps, lattice work and door frames.

Think twice about leaning that wooden trellis against your home.

Stack firewood and scrap lumber away from any structures and eliminate old stumps and wooden debris.

Keep crawl spaces and basements clear of wood debris, newspaper, excess cardboard, etc.

Screen all exterior vents to prevent entry.

Seal all cracks and holes in your home's foundation to eliminate easy access to termites.