Canine Bed Bug Inspection

Download Canine Bed Bug Inspection Flyer
The Most Accurate Bed Bug Detection Tool Available!

Detects live bed bugs and live bed bug eggs within minutes.


Over 97% accuracy, same as bomb-sniffing dogs.


Regular canine inspections prevent client complaints and reduce long term remediation costs.


More accurate results lead to lower remediation costs.
Advantages Of A
K-9 Bed Bug Inspection

SAVES MONEY

The only 'tool' that accurately detects ALL STAGES of LIVE BED BUGS by their scent.

They can search an entire hotel room in 2-3 minutes with 97% accuracy.

A regular pro-active inspection program can reduce the possible financial impact and damage to your brand reputation.

Early detection can lead to lower remediation costs.

PEACE OF MIND

If a bed bug is detected, that specific area can be treated before the problem spreads.

Regular inspections provide peace of mind to you and your clients that your properties are bed bug free.

An inspection following a treatment can confirm that all bed bugs have been eliminated.

PROVEN SUCCESS

Dogs have been used for years to detect bombs, drugs, termites and more with their keen scent.

They can accurately track a scent through mattresses, inside furniture, into walls and more.

Dogs that are properly trained and certified are recognized in court as a 'scientific instrument'.

Advantages Of Using
Rose's K-9 Team

The Rose K-9 Team program is developed and supervised by the Board Certified Entomologists at Rose.


Rose staff Entomologists continue to research the latest techniques and develop specific programs that are proven effective against bed bug infestations.

If bed bugs are found, we will work with you to determine the preferred solution for resolving your problem.

NESDCA Certification

Why It's Important To You

This third party accreditation ensures that our bed bug scent detection dogs alert ONLY to LIVE BED BUGS and LIVE BED BUG EGGS.

Rose dogs and their handlers are re-certified annually through both NESDCA and Rose Pest Solutions.

For more information visit: http://www.nesdca.com.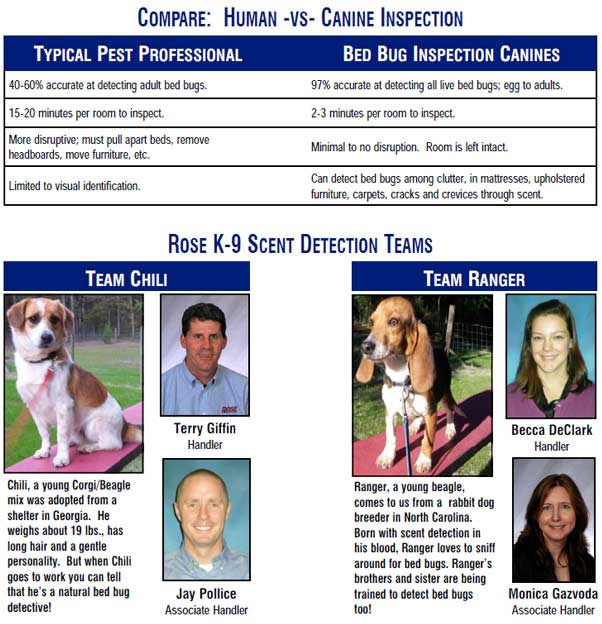 Rose scent detection dogs are trained by J&K Canine Academy. J&K Canine Academy is the only canine training program in the world that is independently researched and tested with published results.
Contact Rose Today To Schedule Your Canine Bed Bug Inspection
With an adept sense of smell, bed bug dogs possess the unique ability to detect bed bugs quickly and efficiently, with little disruption to your home or business. Ideal for residential dwellings, hotel rooms, health care facilities and other commercial establishments, Rose offers our canine bed bug inspection services throughout our coverage area including in Detroit, Troy, Cleveland, Cincinnati and Dayton. Contact us today to schedule your canine bed bug inspection!
Testimonial:
"I want to let you and the owner know how pleased I was to meet Jim H. on 12-1. Jim went the extra mile with me and really explained everything to me. Jim certainly is a great asset to Rose and please let him know I appreciate the extra mile!"
D. Adams